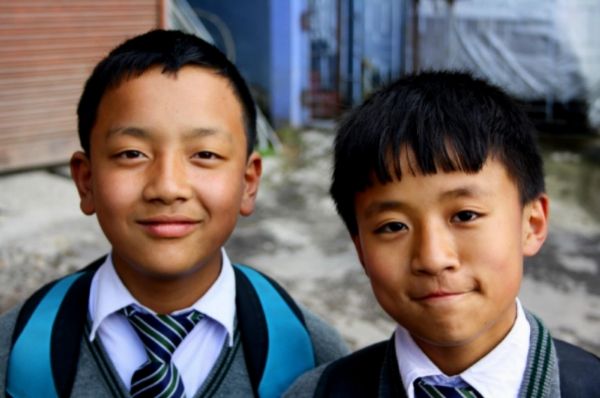 The place
: Darjeeling, northern part of the Indian state of West Bengal. Nicknamed 'Queen of the Hills'.
Why would one want to visit
: Low temperature throughout the year; breathtaking views of the Himalayas especially Kangchenjunga- the third highest mountain in the world; famous for tea; Buddhist monasteries; Darjeeling Himalayan railway.
I'm a big fan of hills and mountains. I love the fog that surrounds hill tops, the endless green tea estates, less number of vehicles on the roads, even the winter clothing.
Munnar, Ooty and Kodaikanal are the major hill stations in south India and I had been there many times. Shimla is the north Indian hill station beauty that stole my heart, totally. Still wanting to explore more and more hills, I decided to couple Darjeeling with my Kolkata trip. And it was hell of a decision that I had made in my history of decision making!.
Started with the planning and preparations right from January though the dates were fixed as 4th and 5th May. That meant I would reach there on 4th noon and would have to leave on 5th noon. Just one day is obviously not enough for exploring Darjeeling but I had no choice- I was really short on leaves at work. The planning agenda consisted of what to visit and where to stay. After a lot of R&D with the help of the very vast internet, I finalized these. The details, I shall be providing below.
The Darjeeling part of my Kolkata-Darjeeling trip started at Sealdah railway station, Kolkata on the night of 3rd May. I had made a reservation on the Kanchakanya Express that starts from Sealdah at 08:30 pm and reaches New Jalpaiguri (NJP), at 07:30 am next day. It reached on time, almost. From JNP, one can get shared taxis that charge Rs 200 per person for the 3.5 hour uphill journey to Darjeeling or private taxis that may charge around Rs 1500. I, the lone traveller, took the more economic shared taxi.
[Tip] NJP is the nearest broad gauge railway station to Darjeeling. A lot of trains run between here and Kolkata daily. The Darjeeling Toy train also starts from NJP. Comprehensive details can be found at Indian railway's passenger reservation enquiry website. Note that reaching Darjeeling by the Toy train takes almost double the time required by the road journey.
Our taxi started from NJP at 09:00 am. After around 30 minutes, we bid goodbye to the crowded road, roadsides and started the uphill journey on a narrow road. It looked like passing through a forest in the beginning. As minutes passed, the temperature began to drop and amazing views of the hills started to appear on both sides. The rich vegetation, the fog embracing the gigantic mountains, small towns, everything fitted so perfectly into my picture of a beautiful hill station. By the time our taxi reached Darjeeling town at 12:30 pm sharp, mother nature had already welcomed me to the 'Queen of the Hills' with her picturesque sights.
It was cold. Being a person from a humid equatorial region, it was enjoying every moment. In May, sweaters are enough, you don't require winter jackets and gloves.
It was not hard to find out my hotel, the
Bellevue Hotel
. Thanks to Lonely Planet, their maps are easy to follow and a lot informative. The hotel is run by Mr.Tashi Pulger who was very helpful during the process of room reservation. It cost me Rs. 1500 for one night including breakfast and it was totally worth it. The room was tidy, the bathroom was neat and clean, hot water was available round the clock and Mr. Sam was available for any help at any time.
Hotel Bellevue - Deluxe room
I settled in, took a refreshing bath, moved out for exploring the places nearby. But, lunch first. Spotted the
Glenary's Restaurant
on Nehru road. It had a really good ambiance inside, the side rows offered great views and the service was professional. I ordered chicken fried rice and butter chicken which really met my expectations. What an awesome start of the Darjeeling exploration - awesome lunch at an awesome restaurant!.
As soon as I finished my lunch, it started raining. A heavy downpour like the monsoon of Kerala. As I had an umbrella and did not want to waste any time, I started my walk down the Nehru road. There were street shops on both sides, mainly selling woolen clothes. There were many tea shops also, as Darjeeling is famous for it superior quality tea.
My walk ended at the railway station and by that time, rain had stopped. One quick fact about me - I love trains!. I always prefer train travel over travel by bus. Though trains in India (except Rajadhani and tourist oriented ones) can't be described as very neat, hygienic and comfortable, I love a lot of things about them starting from their whistling sound, hot coffee from pantry car, shaky sleep, reading that often gets disturbed either by fellow passengers or the loud "coffee", "tea" recitations by the vendors.
The trains and the
railway station at Darjeeling
are special as the New Jalpaiguri - Darjeeling narrow gauge railway is a part of the Mountain Railways of India which is a UNESCO World Heritage Site. There are a few archaic locomotives on the tracks and I couldn't figure out whether they were on display or still in use.
The rain had resumed and I started my walk back. The bright maroon and yellow painted
Ava art gallery
caught my attention. It houses a collection of 60 art works in oil, water and thread paintings. It doesn't charge any entrance fee. As I'm not a fan of paintings, I was done with my tour in less than 15 minutes. Photography - not allowed.
Ava Art Gallery
Spotted a bunch of school kids in the rain. Happy faces (thrilled to be out in the rain), not-that-happy faces (the rain must have ruined his cricket plans!), contemplating faces, I could spot all kinds.
He was definitely not happy!
They were enjoying out there
She looked 'lost' in the rain
I found a nice looking
tea shop
near by and jumped right in. Tea packets covered in gold and silver shining papers (came to know that the gold one are highest quality and the silver ones are the ones just below). Also in glass bottles for display and the wafting aroma. One could also taste tea there. I bought a few gold and silver ones.
Tea shop
Before dusk, I reached
Chowrasta
(The Mall)
back. It is an open area surrounded by shops, restaurants, and hotels. As it is an elevated portion, it offers spectacular views of the surroundings - small houses on the hill slopes, plush greenery and majestic mountains.
View, not far from Chowrasta
I sat down for a while. There were women selling hot corn, children running around, young and old couples, families, it was a pleasant place and a pleasant time. Had dinner, went back to hotel and called it a day.
The next morning, I was ready by 09:30 am after breakfast from the hotel. It was grilled bread and jam plus coffee. My first destination was the
Bhutia Busty monastery
. Finding my way was exciting!. I had to ask at least 10 people for the way before I finally reached. One has to walk around half an hour downhill, taking the CR Das road from Chowrasta. To be on a safer side, confirm that you are taking the correct route by asking locals, once in 5 minutes.
Bhutia Busty monastery
The monastery has an interesting history. It was transferred to Darjeeling, destroyed during the Gorkha invasion, relocated to its present location, destroyed in an earthquake and then rebuilt. I was fortunate to meet Mr. C.R. Bhutia who was kind enough to explain to me the history of Buddhism and the monastery. It has a collection of Buddhist scripts including the Tibetan Book of the Dead, which is restricted for visitors. Photography was not allowed inside.
[Tip] There are many monasteries in and around Darjeeling. It may be wise to select only one or two to visit as for the average tourist, all of them may give the same feeling.
Tenzing Norgay statue at HMI
I moved to my final Darjeeling tourist destination of the day, the
Himalayan Mountaineering Institute
(HMI). As it was located on the other side of Chowrasta, I had to climb uphill all my way from the Bhutia Busty, reach Chowrasta and walk for another 20 minutes.
Established in 1954, the HMI is one of the renowned mountaineering institutes in the world. Tenzing Norgay, one of the first two persons to reach the summit of Mt. Everest, was the first director of field training of the HMI. The Everest museum, the mountaineering museum and the HMI zoo are located in the same compound. The Everest museum showcases pictures from Mt. Everest expeditions, equipment used and a history of Mt. Everest expeditions. The mountaineering museum has a collection of old mountaineering equipment. The main attractions of the zoo are the animals adapted to high altitude conditions such as the Snow Leopard and the Himalayan Black Bear.
The Himalayan Mountaineering Institute
Himalayan Black Bear
I had a quick lunch from one of the places in the compound. I then walked back to my hotel and checked out, not before thanking the guys there for their wholehearted service. I got a shared taxi from the taxi stand at around 03:00 pm which took me to NJP. I got a chance to admire the beauty of the hills once again before I left the hill station. I reached NJP at around 06:30 pm, well before the scheduled time of my train. There ended my short and sweet Darjeeling adventure.
Yes, I missed some places like the visit to Tiger hill early morning for the sunrise, Tibetan refugee self help centre, Botanical garden etc.As I said, I was not able to spend more days on this trip due to my responsibilities at work. But I must admit that it was indeed a very fulfilling trip as I got to see and know one of the most beautiful hill stations in the country and meet some wonderful people.
So, how about making a trip to Darjeeling?. If you are not a person who has some particular hate for hill stations, you are definitely gonna love it. Avoid rainy season; 2 reasons for this - rains could prevent you from going out and seeing all those awesome places, they also could cause landslides. Latter could mean closed roads and you could get stuck at a place for many days. This will impact your whole planning ahead.
If you ever make a visit, don't forget to tell me how you feel about the place!.